UIC Black Faculty Book Share Series
Learn about some of the exceptional scholarship of Black Faculty at UIC as they discuss their recent publications.
This series is a collaboration of the African American Academic Network, the African American Cultural Center, the CHANCE Program, the Office of Diversity, Equity & Engagement, the Office of Student Affiars, the Office of Faculty Affairs and the University Library.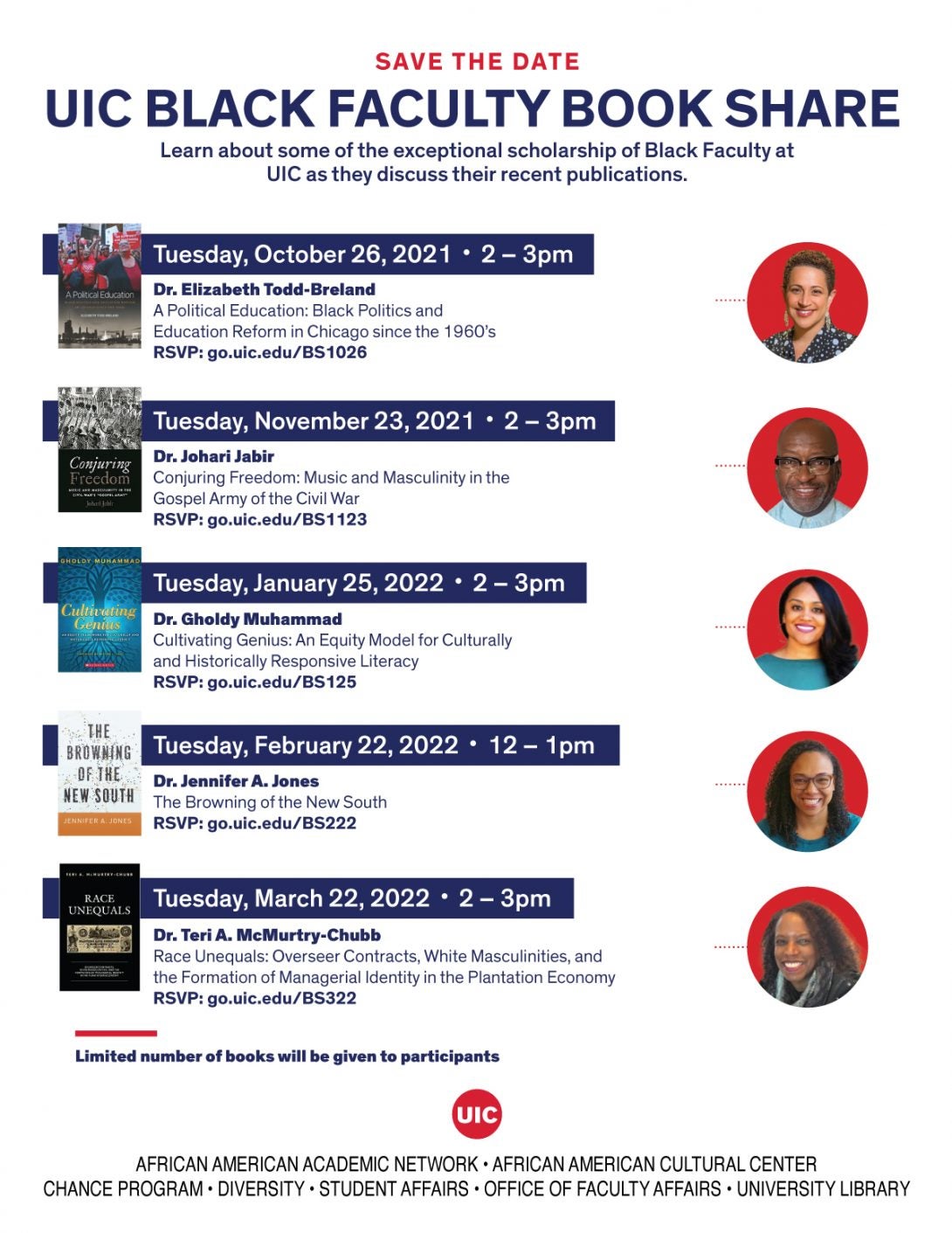 Tuesday, October 26, 2021 | 2 p.m. to 3 p.m.
A Political Education: Black Politics and Education Reform in Chicago since the 1960's
Featuring Dr. Elizabeth Todd-Breland
Tuesday, November 23, 2021 | 2 p.m. to 3 p.m.
Conjuring Freedom: Music and Masculinity in the Gospel Army of the Civil War
Featuring Dr. Johari Jabir

Tuesday, January 25 , 2022 | 2 p.m. to 3 p.m.
Cultivating Genius: An Equity Model for Culturally and Historically Responsive Literacy
Featuring Dr. Gholdy Muhammad

Tuesday, February 22, 2022 | 12 p.m. to 1 p.m.
The Browning of the New South
Featuring Dr. Jennifer A. Jones

Tuesday, March 22, 2022 | 2 p.m. to 3 p.m.
Race Unequals: Overseer Contracts, White Masculinities, and the Formation of Managerial Identity in the Plantation Economy
Featuring Dr. Teri A. McMurtry-Chubb

Read biographies of each scholar, register for their upcoming events and view photos and videos from past events!